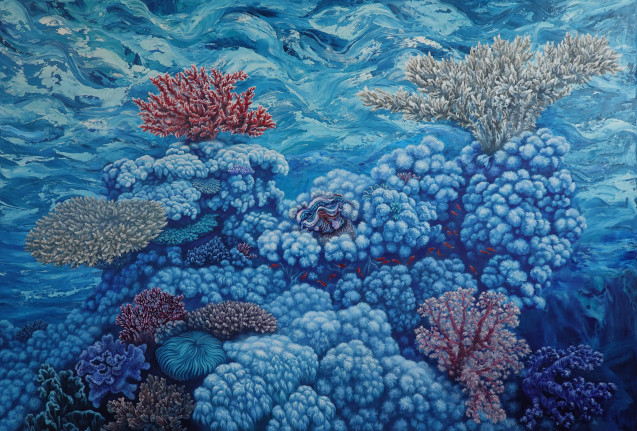 A Gallery is Inspired to Support an Artist's Vision and a Non-profit's Mission
"We're excited to showcase how a small gallery business can help make a big difference." Jay Caldwell
The environmental commitment and compelling art of Nikolina Kovalenko inspired Jay Caldwell, principal of Caldwell Gallery Hudson, to think about exhibiting the work of a living artist for the first time in the firm's 48 year history. After learning about the dire situation faced by the world's coral reefs, the artist began diving and photographing corals as they are today. Her resulting Utopian Reefscape paintings depict corals thriving in a colorful abundance. In conversations about the possibility of an exhibition, Nika and Jay decited to go beyond the typical parameters of gallery exhibitions by providing the artist with a larger percentage (60% instead of the usual 50%") of sales proceeds. This gesture helps a working artist make a sustainable living. In addition, the gallery – inspired by the commitment of both artist and non-profit – has chosen to donate half of its commission to a non-profit working in the artist's chosen field. Thus, the Coral Reef Alliance will be receiving 20% of all sales as philanthropic beneficiary of this special exhibition model.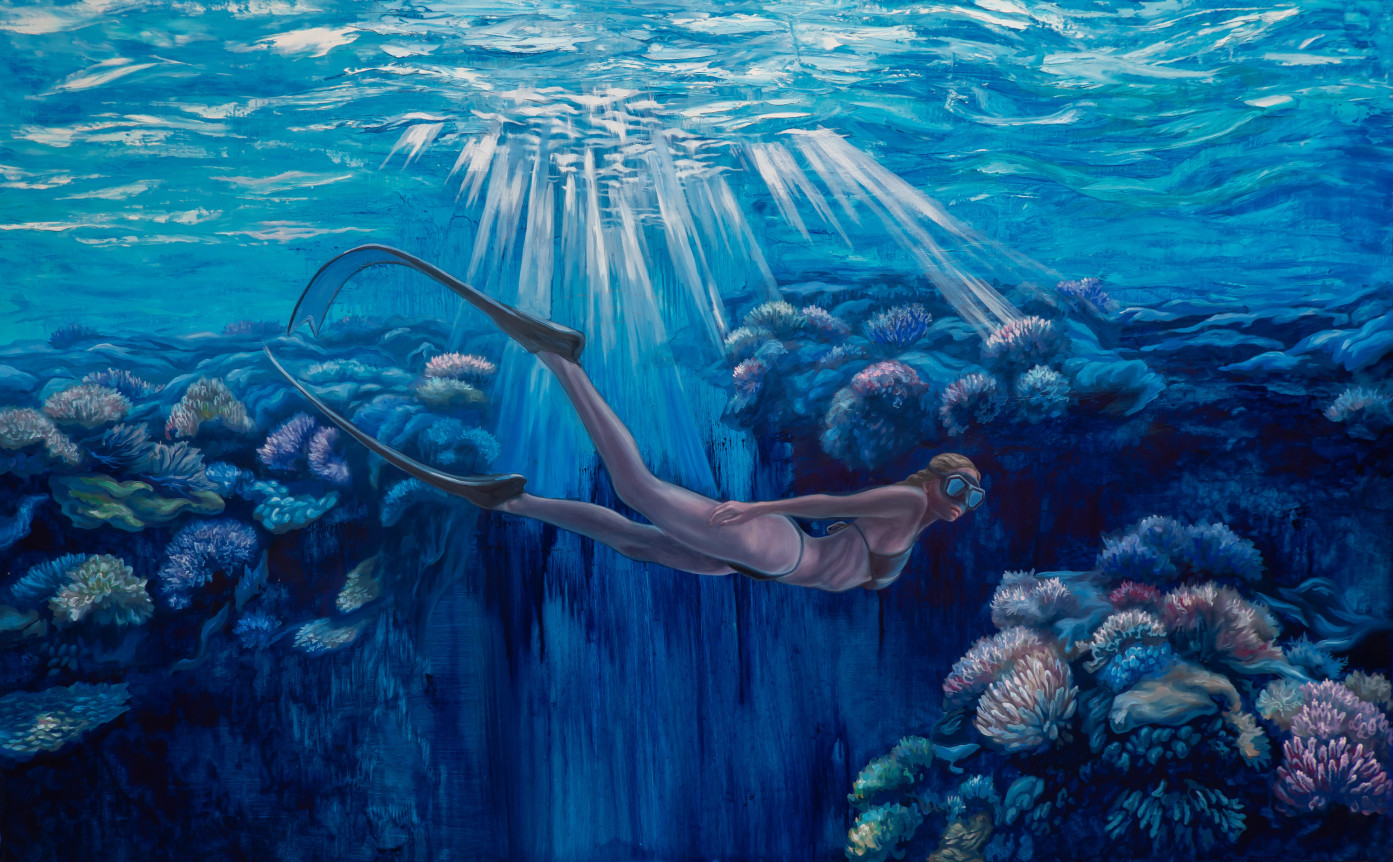 Artist's Residency & Raffle Painting (Winner Drawn 11/28) – 100% of Ticket Sales to Coral Reef Alliance.
Underwater Dreamer - Self Portrait as Free Diver (Oil on panel, 30" x 48")
Caldwell Gallery Hudson underwrote a 10 day residency where the artist painted a new work in the gallery front window on Warren Street in Hudson. Up to 99 raffle tickets are available for $50 each, with 100% of the proceeds donated to the Coral Reef Alliance when the winning ticket is drawn at CGH on 11/28/2021.
Tickets may be purchased by cash, check, Zelle or Paypal. For more information please contact Jay Caldwell at (518) 828-7087 or email to purchase a ticket(s). Winner does not need to be present to win. Winner is responsible for picking up the painting or covering the shipping costs. This raffle is open to all residents in the US over 18 years of age. Thank you for your support!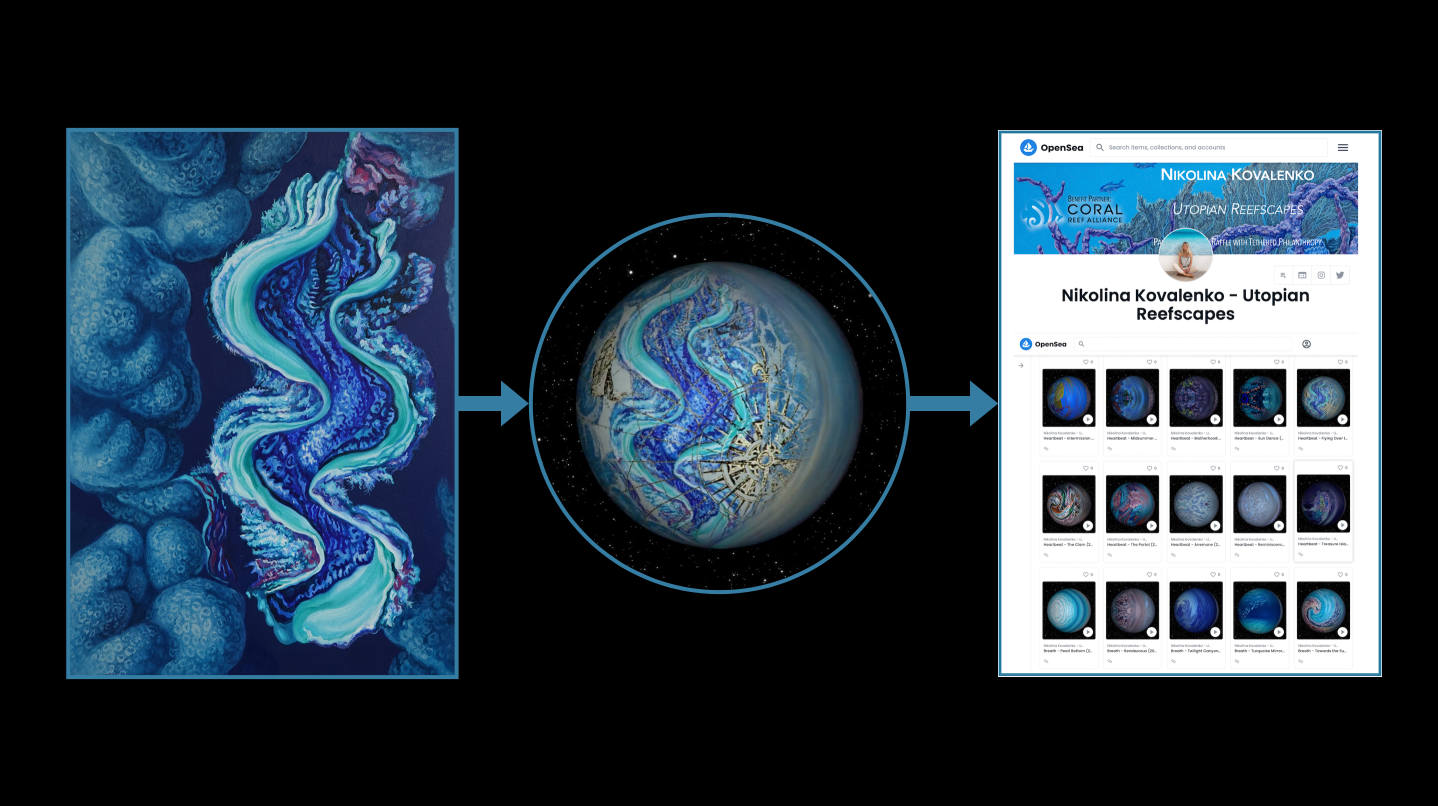 A Blockchain Component via NFTs Created for the Exhibition Drives Additional Philanthropy
"I challenged Nika to create a 'mirror' NFT artworks for each oil painting in the exhibition. The resulting 20 second video with sound NFT's beautifully encapsulate the thematic foundations of her paintings while showcasing how today's artist's can deploy new tech to create the art of tomorrow." Jay Caldwell
The explosion of Non-Fungible Tokens (NFT's) as art into the public consciousness this past March following Beeple's $69mm NFT sale at Christie's ushered in a new era and opportunities for artist. They could employ new tools to grow creatively, while generating new revenue streams in their quest to earn a sustainable living from their creative practices.
It also gave our firm an opportunity to launch a new venture - CGH Blockchain – which is creating portals between the historic art world structure and a new, rapidly emerging art ecosystem which affords artists unprecedented agency over their creative output. Mirroring our commission structure for the oil paintings in the exhibition, Nika is receiving 60% of NFT sales revenues, and also receives ongoing royalties of 10% for every resale of an NFT on the secondary market.
Coral Reef Alliance will receive 20% of all NFT sales proceeds. We're hoping this example inspires and encourages charities to investigate the growing opportunity – and take a leading position – through the acceptance of donations in crypto currency. Experts estimate this mostly untapped strategy represents a burgeoning revenue source for non-profits.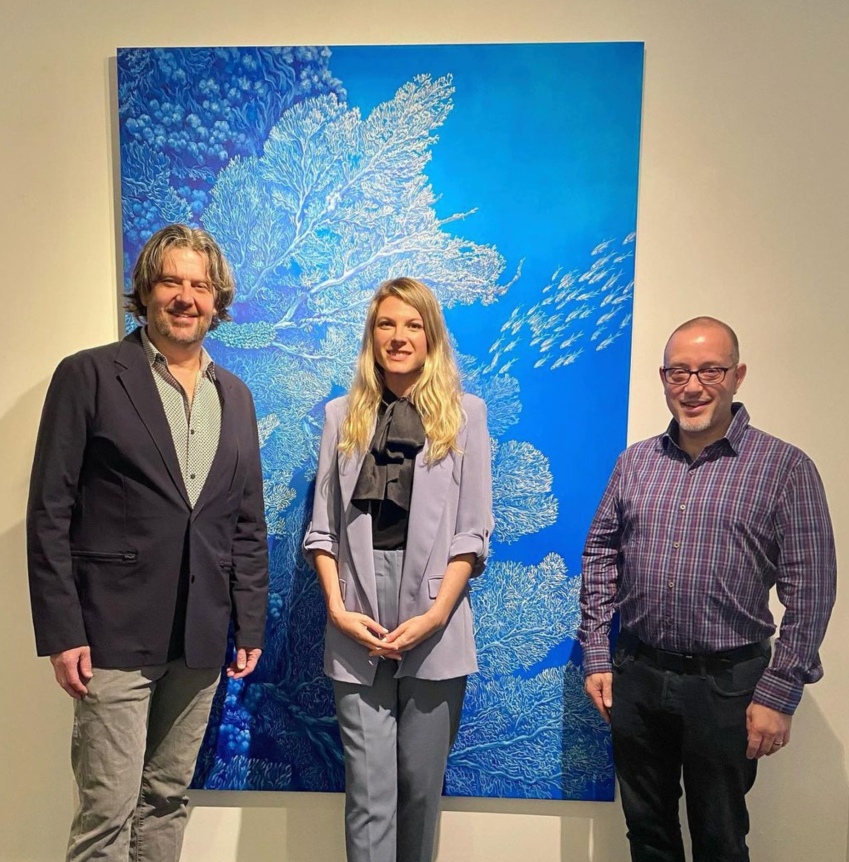 Opening night of Nikolina Kovalenko's Utopian Reefscapes exhibition. It was a wonderful evening!
"Connecting with inspired, engaged and creative minds is a wonderful part of the art business." Jay Caldwell
Left to Right: Jay Caldwell, principal of Caldwell Gallery Hudson; artist Nikolina Kovalenko; and Coral Reef Alliance Board Member Rob Watt.

The Coral Reef Alliance works at local, regional, and global levels to keep coral reefs healthy, so they can adapt to climate change and survive for generations to come. As one of the largest global NGOs focused exclusively on protecting coral reefs, the Coral Reef Alliance (CORAL) has used cutting-edge science and community engagement for nearly 30 years to reduce direct threats to reefs and to promote scalable and effective solutions for their protection. Please consider supporting their important work!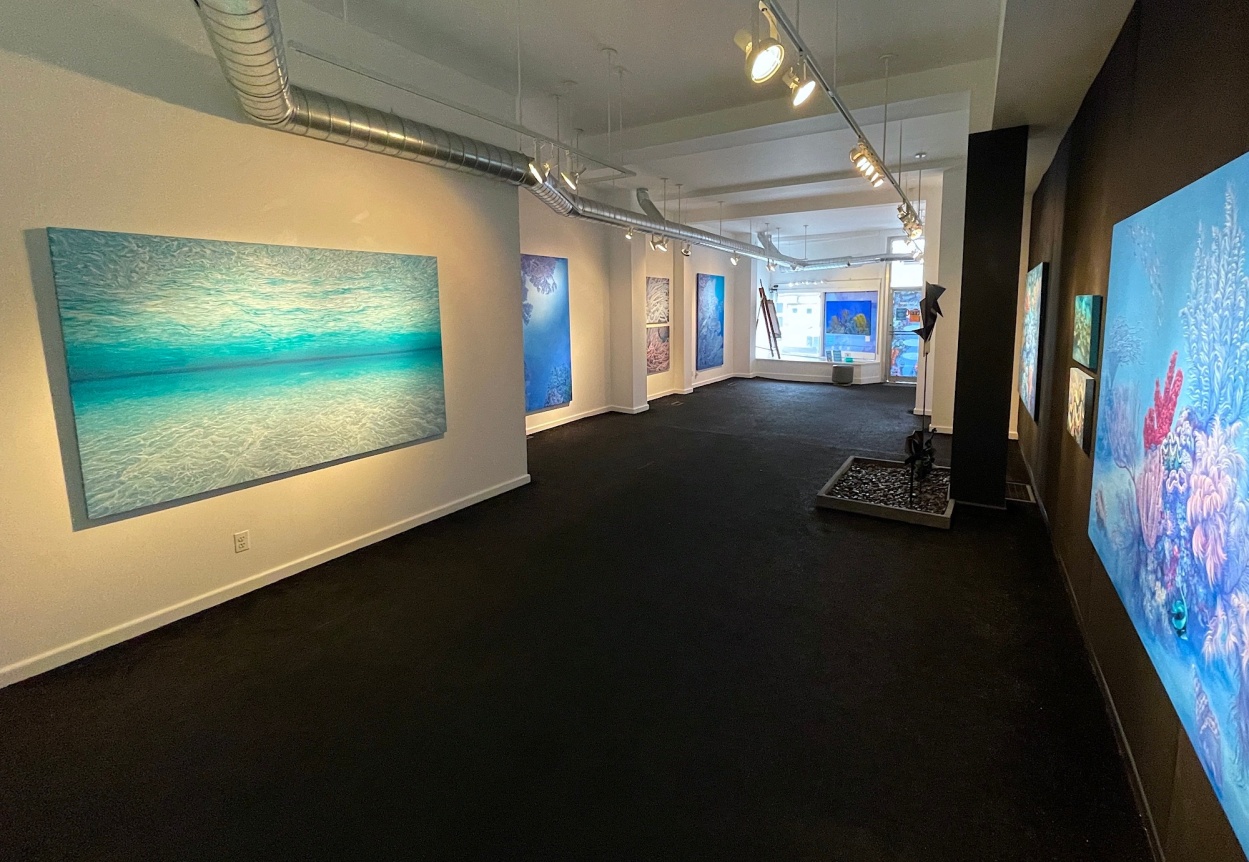 The first floor gallery at Caldwell Gallery Hudson, where Nikolina's Utopian Reefscapes have been drawing in and inspiring visitors with their breathtaking beauty.