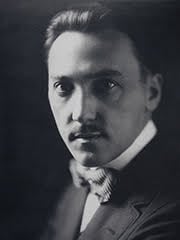 Johann Berthelsen's career as an American Impressionist painter of lyrical cityscapes and snowscapes flourished only after he had achieved renowned success as an opera singer and voice teacher. Born in Copenhagen, Denmark on July 25th, 1883, his parents were avid supporters of the arts and encouraged their seven offspring to pursue creative endeavors. Conrad Berthelsen was a tenor at The Royal Opera in Copenhagen, and initially his youngest son Johann followed closely in his footsteps.
In 1890 Berthelsen's family emigrated to the United States, where they settled in Wisconsin. After studying music and voice at the Chicago Music College Berthelsen was hired as the lead baritone for the Grand Opera, touring with the company for five years. Eventually he returned to Chicago as a faculty member at his former college and went on to become the head of the voice department at the Indianapolis Conservatory of Music. It was in Indiana that Berthelsen met and developed a deep friendship with the painter Wayman Adams. Eventually the two friends moved to New York City and set up studios within a few blocks of one another. Berthelsen taught voice lessons while Adams worked on his paintings. In his free time Berthelsen pursued his new passion – painting.

The Stock Market Crash of 1929 proved to be both a blessing and a curse for Berthelsen for his respective careers as both a musician and a burgeoning. Many of his pupils could no longer afford lessons and so his voice studio closed soon after the crash. With the loss of his teaching income Berthelsen turned to his canvases in an effort to make some money and put food on the table. He worked quickly and efficiently to finish as many paintings as possible. The vibrancy, energy, and humanity that came through in his Depression-era cityscapes did not go unnoticed by the public. Berthelsen also contributed to various New Deal art projects, which gained him a reputation not only as a Metropolitan painter, but also as an artist contributing to the rebuilding of the American economy. In 1940 he was asked to join The Lecture Bureau and The Columbia Broadcasting System after his involvement with the New Deal projects. Berthelsen and his family moved to Connecticut in 1942. In the economic boom that followed, patrons and art enthusiasts were looking to purchase Berthelsen's work again. The family moved back to New York City in 1950, where the next twenty years provided a flourishing market for Berthelsen's work. In November of 1971, Berthelsen was struck by a hit-and-run driver in New York City. The injuries were minor, however the accident shocked his system and instigated a rapid physical decline. He painted up until his death on Easter Sunday of 1972. The legacy of Johann Berthelsen encapsulates the elegant quotidian of city life through the seasons in the ways that each brush stroke brings to mind the hazy comforts of memory and space.

Written by Sonia Brand-Fisher
Chronology
1883 Johann Berthelsen born in Copenhagen, Denmark on the 25th of July
1890 Emigrates with his mother and his brothers to the United States
1901 Begins studying voice at Chicago Music College
1904-09 Tours with the Standard Opera Company owned by the Schuberts
1910 Joins the voice faculty at Chicago Music College, meets Svend Svensen
1913 Becomes head of the voice department at the Indianapolis Conservatory of Music, meets and begins to study with Wayman Adams
1920 Berthelsen and Adams move to New York together
Berthelsen sets up a private voice studio at the Rodin Studios; begins creating pastels and water colors of New York City
1926 Elected to the American Watercolor Society
1928 Marries Helenya Kaschewski on March 15th, the couple have three children
1929 Stock Market Crash leads Berthelsen to begin painting full time when his voice students could no longer afford music lessons
1930-40 Becomes involved in several New Deal art projects, asked to join The Lecture Bureau of the Columbia Broadcasting System
1942 Moves with his family to New Milford, CT, which becomes the subject of many of his landscape paintings
1953 Moves with his family back to New York City
1971 Berthelsen is hit by a car while visiting galleries in New York City
1972 Johann Berthelsen dies on the 3rd of April
Awards
1928 Albert Erskine Prize for Pastel, Art Institute of Chicago
1946 Holcombe Prize
Solo Exhibitions
1925 The Art Institute of Chicago, Chicago, IL
1928 The Art Institute of Chicago, Chicago, IL
1946 Hoosier Salon, Indianapolis, IN
1988 Sheldon Swope Art Museum (retrospective), Terre Haute, IN
Memberships
Allied Artists of America
American Watercolor Society
Salmagundi Club
Public Collections
Works by the artist may be found at the Sembrich Memorial, Wake Forest Collection, Hickory Museum of Art, Terre Haute Museum of Art, Butler Institute of American Art, Panhandle-Plains Historical Museum, Sheldon Swope Art Museum, and Hirshhorn Museum and Sculpture Garden.
Bibliography
Leland G. Howard. Johann Berthelsen: An American Master Painter, Sheldon Swope Art Museum. 1988.
Frederick Baekeland. Roads Less Traveled: American paintings, 1833-1935. Herbert F. Johnson Museum of Art, Cornell University. 1998.
Peter Falk. Who Was Who in American Art 1564-1975. Sound View Press, 1985.
Michael David Zellman. American Art Analog 1874-1930. Chelsea House Publishers. 1986.
Johann Berthelsen (1883-1972). AskArt.com. Artists' Bluebook. 2012.
The Johann Berthelsen Conservency LLC. Johann Berthelsen. 2009.