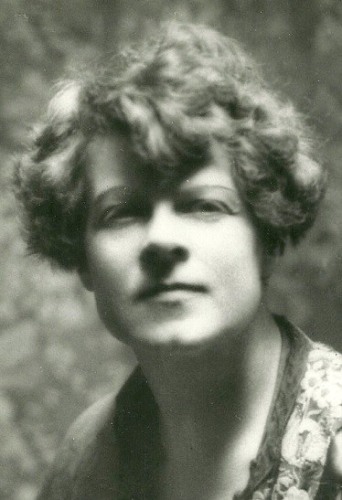 Born in Elgin, Illinois, Jennie Christine Peterson officially changed her name to Jane in 1909 following her first major American exhibition at the St. Botolph Club in Boston. As a child, she attended public school, but with her family's support and encouragement, Peterson eventually applied and was accepted at the prestigious Pratt Institute in New York. While there, she studied under Arthur Wesley Dow. Peterson's mother, proud of her daughter's talent, and keen for her to succeed as an artist, provided her with $300 toward enrollment at the institute—a significant investment at the time for the family. After graduation in 1901, Peterson went on to study oil and watercolor painting at the Art Students League in New York City with Frank DuMond. By 1912, Peterson was teaching watercolor at the Art Students League and eventually became the Drawing Supervisor of the Brooklyn Public Schools.

Like many young people, especially artists, Peterson extended her artistic education by taking the traditional grand tour of Europe. For the rest of her life she would frequently return to travel on the continent. The grand European tour was one of the best ways for young artists to view specific works of art and to learn from the masters. Peterson studied with Frank Brangwyn in Venice and London, Joaquin Sorolla in Madrid, and Jacques Blanche and Andre L'Hote in Paris. Under their direction she gained a diverse and expert knowledge of painting techniques and composition. Studying in Paris, Peterson also became friends with Gertrude and Leo Stein, becoming a regular at the sibling's various gatherings where the guests included Pablo Picasso and Henri Matisse. During her time in Paris Peterson was surrounded by Fauvism, Expressionism, Impressionism, and the beginnings of Cubism. She was stimulated by the scrutiny of Impressionism being promoted by Picasso, Matisse, and Cézanne. When she first arrived in Paris in 1907 Picasso was already paving the way with innovative and experimental techniques, displaying Fauvist tendencies and going beyond them.

Jane Peterson used her raw and creative talent to combine the techniques and styles imbued in her by her teachers, and in so doing, distinguished herself as an original and influential American artist. Her work partakes of Impressionism, Neo- and Post-Impressionism, Art Nouveau, Nabi, and Fauvism without being strictly of one or the other schools of painting. We may trace the development of her unique style chronologically beginning in 1907. It was at this point that her style began to develop "a pitch of purity and clarity of color more abstracted in relation to the observed world." [1] Critics note that by 1910, "Peterson's lines, colors, and designs were not as autonomous as the Impressionists had been, and she developed works which showed more self-awareness and emotional expression." [2] From 1910 through 1916 Peterson became increasingly linked stylistically to fellow American, Maurice Prendergast. They shared similar interests in subject matter, and both had traveled and studied in England, Italy, and France. Peterson and Predergast had comparable technical skills of astute observation and loved colorful subjects like seaside, parks, and crowded boulevards. Color and color-dominated visual effects took precedence over detailed drawing for both artists however, Peterson's linear movement is more aggressively flowing than Prendergast's, and she added continuously oscillating lines and color swirls. Gradually, they each developed a unique style. [3]

In 1916, Peterson exhibited work, featuring scenes from the Pacific Northwest, which she had painted while traveling with Louis Comfort Tiffany. She completed many floral subjects, which were inspired by the gardens of her summer home in Massachusetts. Many of her beach and pier scenes were from painting trips to artist colonies along the Massachusetts coast. During World War I she painted war-oriented subjects for the benefit of Liberty Loans and the American Red Cross. In 1919 she embarked on a continental painting expedition in Louis Tiffany's private railway car. The artistic excursion began in the exquisite gardens at Tiffany's home at Laurelton Hall, Oyster Bay, New York, where the gardens themselves were often likened to Claude Monet's gardens at Giverny. Peterson's renderings of the gardens were very impressionistic, echoing Monet's technique in his paintings of Giverny. At the height of her career Jane Peterson's style may be described generally as "brightly hued painterly, Post-Impressionist." [4] The artist was well known for her Gloucester harbor scenes, Venetian vignettes, New York subjects, and her exotic Orientalist paintings of North Africa and Constantinople.

In 1925, Peterson married Mortiz Bernard Philipp, a lawyer and art patron, who was twenty-five years her senior. At Rocky Hill, her summerhouse in Ipswich, Massachusetts, Peterson completed many floral, beach, and pier scenes. After her husband's death Peterson resumed her studies and travels abroad. In 1939 she married her second husband, James S. McCarthy, a prominent New Haven physician. They separated within a year, and then divorced. By the 1950s, Peterson's hands had become so crippled with arthritis that she was forced to paint much less frequently than in her youth. She spent the last five years of her life with her niece in Kansas, who took care of her until she died on August 14, 1965.

In 1938 the American Historical Society named Peterson the 'most outstanding individual of the year'. She was only the second woman to receive the honor. Jane Peterson was one of America's most innovative artists, and she was a remarkable woman who lived a life of independence and adventure that was not common among her contemporaries. In her work, from landscapes to still-lifes, she blends traditional approaches to painting with the vanguard art of the Impressionists, Post-impressionists, Expressionists, and Fauves.
Written by Hali Thurber
Footnotes:
[1] J. Jonathan Joseph. Jane Peterson: An American Artist. p.16. Boston. 1981.
[2] Joseph. p.16.
[3] Joseph. p. 17.
[4] Joseph. p. 42.
Chronology
1876 Jennie Peterson is born in Elgin, Illinois
1901 Graduated from the Pratt Institute in New York City
1907 Traveled to Paris
1909 Officially changes name to Jane Peterson
1912 Taught watercolor at the Art Students League
1919 Louis Tiffany accompanies Peterson on a continental painting expedition
1925 Marries Mortiz Bernard Phillipp
1929 Phillipp dies
1939 Marries second husband, James S. McCarthy. They divorce inside of one year.
1965 Peterson dies on August 14th in Kansas
Awards
National Association of Women Painters and Sculptors
Society of Western Artists
American Historical Society Outstanding Individual of the Year award
Solo Exhibitions
1909 Bendann's Art Galleries, Baltimore, MD
Knoedler and Co., New York, NY
St. Botolph Club, Boston, MA
1910 Art Institute of Chicago
1911 Doll and Richards Gallery, Boston, MA
Davenport Mun. Art Gallery, Sacramento, CA
1914 Copley Gallery, Boston, MA
The Copley Society, Boston, MA (1953)
1925 Ehrich Galleries, New York, NY
1929 Milch Galleries, New York, NY
1931 Three Arts Club, New York, NY
1941 Tretyakov Galleries, Chicago, IL
1946 Newhouse Galleries, NY
1953 Sears Academy of Fine Arts, Elgin, IL
Group Exhibitions
1908 Société des Artists Français, Paris, France
1910 Water Color Club of New York
1911 Pennsylvania Academy of Fine Arts, Philadelphia (1915, 1916, 1920)
1914/15 Art Institute of Chicago
1915 American Girls Club, Paris, France
Anderson galleries, New York
Arlington Galleries, New York
Connecticut Academy of Fine Arts, Hartford
Panama Pacific International Exposition, San Francisco
1916 American Water Color Society, New York
Corcoran Gallery
1917 Buffalo Fine Arts Academy, NY
Gallery of the Moors, Gloucester, MA
Memorial Art Gallery, Rochester, NY
National Academy of Design
1919 National Association of Women Painters & Sculptors, New York (1948)
Palm Beach Art League, FL
1922 New York Society of Painters
1925 Robert C. Vose Galleries, Boston
1927 Allied Artists of America, New York
National Association of Women Painters & Sculptors, New York
1929 Toledo Museum of Art, OH
1938 Ogunquit Art Center, ME
1941 Lincoln Galleries, New York
Midtown Galleries, New York
1960 North Shore Arts Association, Gloucester, MA
1968 Retrospective, C.C. Deininger Gallery, Boston
Retrospective, Robert Schoelkopf Gallery, New York
1970 Retrospective, Hirshl and Adler Galleries, New York
1973 Retrospective, Hunter Gallery of Art, Chattanooga, TN
1976 Retrospective, Sis Deutsch Gallery, New York
Public Collections
Works by the artist may be found at the Metropolitan Museum of Art, Brooklyn Museum, and Hirshhorn Museum and Sculpture Garden.
Bibliography
J. Jonathan Joseph. Jane Peterson: An American Artist. Boston: 1981.
Privately printed: copy 321 of 750

Stuart P. Feld. Introduction: Jane Peterson, A Retrospective Exhibition. Hirshl and Adler Galleries, Inc., New York: 1970.

Charlotte Streiffer Rubenstein. The First American Women Artists. Woman's Art Journal. Vol. 3, No. 1 (Spring-Summer, 1982), pp. 6-9.

AskArt.

Peter Hastings Falk, Editor in Chief. Who was Who in American Art Volume III, Sound View Press, 1999, p. 2587-2588.